Welcome to Rock Run Kennels, home of Rock Run Rottweilers and Wirehaired Pointing Griffons. The kennel name, Rock Run, is named after the stream that flows in front of our twelve acres where the dogs have plenty of room to run and swim.

We have been showing and breeding dogs since 1970. Our first breed was Irish Setters, followed by English Springer Spaniels. We stayed with the Sporting breed until 1994 when our last English Springer Spaniel died. After all those years of grooming, we wanted a "wash 'n wear" breed, so we bought our first Rottweiler in 1995 since Rottweilers seemed to be an all purpose dog. We currently show our Rottweilers in conformation, backpack, cart, work in obedience and agility, and even hunt with them!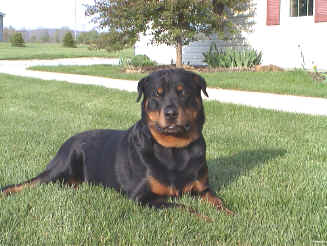 The men in the family loved the Rottweilers, but missed the sporting breed. So we began looking for a hunting breed that worked close, didn't require much grooming, was medium to large in size and was able to hunt anything. We decided on the Wirehaired Pointing Griffon, the rarest of the sporting group. Originating in the Netherlands, there are only 40 litters a year whelped in the United States.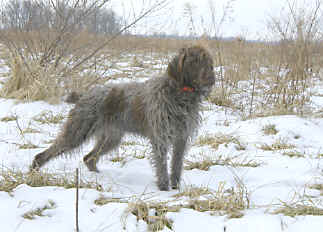 We are proud of our dogs, and invite you to meet our "extended, 4-legged" family! Thank you for visiting our web site. Please contact us with any questions that you might have.